Burnout To Freedom: Total Physician Wellness
6 Week Wellness Program For Physicians
Physician Burnout and how to prevent and end it:
Burnout has been shown to cause physician suicide, physicians leaving medicine, and overall disruption of patient care due to physician mental illness.
The purpose of this activity is to give attendees tools, skills, and resources to prevent and beat burnout, and thus prevent physician suicide; reduce attrition, and improve the aforementioned disruptions of patient care.
Course starts on Saturday, March 5th at 6:00 p.m. CT and continues each Saturday for 6-weeks.
Objectives:
At the conclusion of this 6-week program, you will be able to:
Recognize burnout in yourself.
Identify the exact cause/trigger for your own burnout.

 

Develop robust and creative solutions to specific issues that cause burnout for you.

Develop a support system via delegation, hiring, and asking for help.

Utilize various mindset tools to reduce feelings of stress and overwhelm that inevitably accompany burnout.

Revitalize passions outside of medicine.

Utilize common tools to ask for what they require in workplace situations.

Set reasonable boundaries between work and home.
Module 1
Definitions and evolution of the word "burnout". 
Common myths about burnout that lead to worsening.
Describing and debunking the 7 common myths- 1 hour lecture with Q & A
Journaling- Six journaling prompts walking through the common myths and journaling personal workable solutions based on didactic- 1 hour of journaling as a group in 10 minute blocks with Q&A and feedback during that hour
Module 2
The empowered doctor. Evolving to an identity that is "burnout resistant". The five burnout prone identities. Identifying which ones we may unknowingly embody and how to evolve into the one identity that is burnout resistant. Brief discussion on other sources of burnout that may not be work related-1 hour lecture.
Journaling homework on personal sources and potential sources of burnout. Six journaling prompts on the different identities. Reading from Psychocybernetics Chapters 1 and 2– 1 hour self directed
Module 3

 
Review of Identity homework- 30 minutes
Mindset retraining practices to reduce stress and overwhelm: The MAGIC 5. Setting reasonable boundaries without guilt. –1 hour lecture
Practice exercise of The Magic 5 techniques 30 minutes
Module 4
Assessment of support systems and assembling allies. Discussion of hyper- independence as a trauma response. 1 ½ hour lecture
Practice use of R.A.T 1 and R.A.T 2 (Relationship Assesment Tool 1 and Relationship Assignment Tool 2). 30 minutes
Module 5
Crucial conversations: How to ask your boss/ chain of command for what you need to do your best work. Looking for the Win-Win always. Showing leadership in your conversations at work –1 hour lecture
Reading from Energy Leadership Chapter 8 plus assessment of your own "energy level" –1 hour self directed
Module 6:
Review of energy leadership with Q & A –30 minutes
Stepping into a new you. A wholistic view of YOU. Not just as a doctor. Developing passion projects and seeing them through.-1 hour.
Wrap up: Review and final Q&A with verbal feedback- 30 minutes
I'm ready to prevent and beat burnout!
Registration Close
Sign Up Below To Be Notified When Course Is Scheduled To Run Again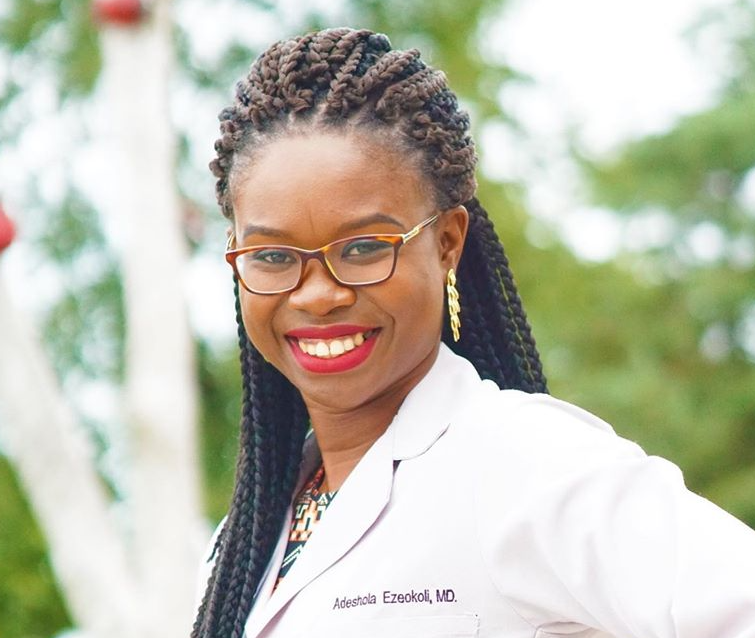 Meet Your Course Instructor:
Dr. Shola Ezeokoli is the multi-talented founder and CEO of Balance with Dr. Shola LLC and the Physician Heal Yourself brand. Known for her vibrant personality and innovative approach to physician coaching, Dr. Shola is passionate about helping early to mid-career physicians create lives of more wealth, autonomy, freedom, and fun through her work as a professional coach, speaker, and author.
As a triple licensed Internal Medicine Doctor with nearly twenty years of clinical experience, Dr. Shola understands the unique challenges of the medical profession. After witnessing her high-achieving colleagues suffer under the intense pressure that comes with a career in medicine, Dr. Shola decided she wanted to do more to support her fellow doctors ease the burdens of high stress and beat burnout. This desire led her to explore her interests and talents outside of medicine and use them to help her colleagues.
To advance her mission of helping the physician community, Dr. Shola began her career as a professional coach. She is ICF-trained and offers a variety of programs designed specifically to help her physician clients achieve their dreams. A firm believer that physicians can achieve a level of balance and harmony by exploring their diverse range of talents outside of medicine, Dr. Shola helps clients focus on a variety of topics including personal growth, productivity, entrepreneurship, marketing, and many more. She encourages and guides her clients through the process of identifying and capitalizing on their unique talents, so they can lead happy, productive lives, free of stress and burnout.
 Faculty and Disclosure Information
Dr. Adeshola (Shola) Ezeokoli discloses that she is the CEO of Balance With Dr Shola LLC. The remaining planner of this activity have no relevant financial relationships to disclose.
Accreditation and Designation Statements
In support of improving patient care, Rush University Medical Center is jointly accredited by the Accreditation Council for Continuing Medical Education (ACCME), the Accreditation Council for Pharmacy Education (ACPE), and the American Nurses Credentialing Center (ANCC), to provide continuing education for the healthcare team.
*Rush University Medical Center designates this live activity for a maximum of Twelve (12) AMA PRA Category 1 Credit(s)™. 
Physicians should claim only credit commensurate with the extent of their participation in the activity.
Instructions
In order to obtain credit, each participant is expected to complete course live/watch recorded modules. Participants will then evaluate the course and claim credit within 10 days of the final day of the course. The course is expected to take 12 hours to complete.